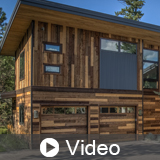 Modern Rustic

About the Sponsor
Coeur d'Alene Wood, LLC., manufactures and offers an innovative, one-of-a-kind line of aged wood products for its distributors. CdA Wood's revolutionary, patented process, accelerates the aging of wood, weathering the lumber to give it an authentic barnwood and reclaimed look and character. CdA Wood simply stimulates the organic maturing of the wood that naturally occurs from extended exposure to nature's' elements. CdA Wood achieves a unique color and exceptional aesthetic appeal on each piece of raw lumber without the use of paints, stains or other contaminants. The Xcelerated product line has the structural integrity for outdoor siding and trim and is safe for indoor accent walls, ceilings and other applications. All products are manufactured in the USA.
The look of reclaimed wood is popular across all generations for different reasons. The modern rustic design trend incorporates the warmth and character of wood with the clean, fresh look of a contemporary aesthetic.
This one-hour course will examine the attributes and drawbacks of using reclaimed wood in design projects. Alternative reclaimed wood products will be analyzed, including a review of the natural aging process without the harmful effects of VOCs and other air contaminants. Alternative reclaimed wood products offer the beauty, colors and textures of reclaimed wood that can be incorporated into any design.
Learning Objectives:
Identify the types of "rustic" wood available for design projects
Explain the advantages and disadvantages associated with the use of reclaimed wood
Recognize how alternative reclaimed wood products promote a healthy indoor living environment free of VOCs and air contaminants
Describe the attributes of alternative reclaimed wood products and how to specify these products to meet various design schemes and user group needs
Design Category (CSI Division):
(06) Wood, Plastics and Composites
Course & Quiz Details:
10 Multiple Choice and True/False Questions
A score of 80% or higher is required to receive a certificate of completion