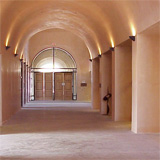 One Coat Stucco: The Most Efficient Stucco System Available

About the Sponsor
NOCSA's mission is to promote the manufacturing and installation of quality one coat stucco through education to meet and exceed the standards that are set for the industry. One coat stucco is an ideal exterior wall treatment for residential, commercial, institutional or industrial buildings. It can also be finished in a variety of ways, including pre-mixed colored cement stucco finish coats, elastomeric coatings and paints, or even acrylic textured finishes.
Course questions/comments
888-461-3352
This course introduces one coat stucco, along with its history, how it works, and the benefits of using it. You will be able to compare and contrast the one coat stucco with the three coat portland cement stucco.
Learning Objectives:
Describe the design flexibility of one coat stucco including weight, energy efficiency, and fire resistance
Describe examples of one coat stucco including interior and exterior applications
Define and describe portland cementplaster and compare and contrast one coat and three coat stucco systems
Describe one coat stucco systems from substrate to finish utilizing section detailing and illustrating code compliance by layer
Design Category (CSI Division):
Course & Quiz Details:
10 Multiple Choice and True/False Questions
A score of 80% or higher is required to receive a certificate of completion