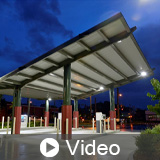 Open Air Steel Structures, the Benefits of Working with a Specialty Manufacturer

About the Sponsor
Every CEAS+ canopy is project specific for a wide range of applications, including commercial, retail, educational, corporate, and healthcare facilities. While canopies are custom, we leverage our experience, in-house design, and engineering teams to work directly with architects and designers to streamline the process. Our job is to realize your vision.
Course questions/comments
844.748.9698
This one-hour program will discuss the benefits of working with a specialty manufacturer to design and fabricate open air steel structures. Our agenda will begin with the History of steel and then move through the different Applications, sectors, and types of Open-Air Steel Structures. The Unique design considerations of Open-Air Steel Structures & the Process used by specialty manufacturers to help architects provide these creative and functional elements of their projects. We'll present a Case study, we'll provide some questions you can ask in order to identify the right specialty manufacturer for your team and your project. And we'll conclude with a Summary.
Learning Objectives:
Examine how to leverage the design expertise of a specialty manufacturer that is not typically found in conventional construction by using four design considerations that include engineering, exposed structural steel, specialized connections and powder coating for best practices and occupant safety.
Explain the differences between specialty manufacturers and conventional steel fabricators and discuss how the specialty manufacturer can help to reduce your workload and produce a safe and durable structure, by providing cost efficient alternatives through consultations and collaboration.
Describe how working with a specialty manufacturer can reduce the architect's workload, saving time, reducing stress, and allowing more focus on the most important parts of your project to deliver a structure that will be aesthetically pleasing and last for years to come.
Identify ways to evaluate a specialty manufacturer's capabilities and process to ensure the finished project meets codes, standards, and is safe for installers and occupants.
Design Category (CSI Division):
(13) Special Construction