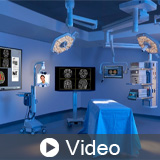 Operating Room Integration

About the Sponsor
Since its beginnings in 1945, the Karl Storz family company has grown into a global manufacturer and distributor of endoscopes, medical instruments, and devices. We are no giant on an international scale but a leader in the things that matter: creativity, flexibility, and expertise.
Course questions/comments
(609)306-9809
Over the last 25 years the introduction of more computer and visualization intensive systems, has created the need for a re-thinking of how operating rooms are designed and used. New technologies and new specialized procedures requiring new design and planning methods to facilitate better workflows to support these new procedures. This presentation will show you the basics of what goes inside an integrated Operating Room, types of rooms and some design considerations you can use to help your customers understand the parameters by which a successful design can help with technology and workflow considerations.
Learning Objectives:
Discuss how trends and innovations in operating procedures inform the needs of Operating Rooms
Illustrate how room control and space management promote efficiency, connectivity, and safety in ORs
Define levels of integration in ORs and the specific wiring needs for each to ensure both installation and operation are safe and effective
Identify the design considerations and technological needs necessary to create ORs that can safely and efficiently serve staff and patients
Design Category (CSI Division):