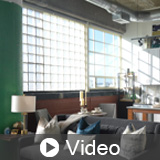 Out of the Basement and into the Light: High Performance Glass Block

About the Sponsor
GBA Architectural Products + Services was founded in 1985 by Jeff Boesch of Medina, Ohio in his family's garage. A few years later he was joined by his younger brother Steve, and eventually his older brother Chuck joined the business. Together the three brothers used their different skill sets to make GBA the successful and highly respected company that it is today. GBA started off as a small business focusing on supplying and installing glass block basement windows in Northeast Ohio. Over the years our scope of work has broadened to high performance glass block, structural glass and walkable skylights. We are a specialty contractor that has the ability and experience to complete any size glass block or structural glass project. We now concentrate on high end homes and commercial buildings all over the United States and beyond.
This one-hour course explores the use of glass block and explains why the characteristics of this product are durable, sustainable, and able to bring much needed light into spaces that have traditionally been somewhat dim.
The benefits of using high-performance glass block products is discussed so participants will be able to recognize the diverse ways this product may contribute to the general well-being of those that live or work in a space that has been enhanced with natural lighting. In addition, some safety concerns in structures are addressed by presenting ways that glass block can be weather and impact resistant to better protect people and property.
Finally, innovative applications are analyzed to see how glass block positively contributes to historical renovation projects as well as to modern projects that illuminate the effect of light on humans and the environment.
Learning Objectives:
Explain how glass block is manufactured and why the attributes make it a sustainable product
Discuss the benefits of using high-performance glass block and how it positively contributes to a healthier environment for occupants of a building
Identify glass block features that are able to provide resistance to high impact forces, such as bullets, hurricanes, tornadoes, while maintaining a Class 1 Fire rating that supports a safer environment for both people and property
Analyze case studies to highlight applications and varied design options that both inspire design professionals to create innovative, aesthetically plealseing structures as well as make use of older materials to avoid unneeded waste in renovated projects
Design Category (CSI Division):
(08) Doors, Windows and Openings
Course & Quiz Details:
10 Multiple Choice and True/False Questions
A score of 80% or higher is required to receive a certificate of completion