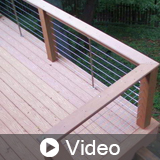 Pedestrian Cable Railings: Guardrails with Cable Infill

About the Sponsor
In 1998, The Cable Connection introduced the innovative Ultra-tec® line of stainless steel tensioners and mounting hardware designed especially for cable railings. The Ultra-tec® product line met with immediate success and has become the preeminent line of its type for use in cable railings. A large inventory of Ultra-tec® cable railing products are maintained in the factory warehouse in Nevada, by the nationwide distributor, The Wagner Company in Milwaukee, Wisconsin, and stocking distributors throughout the United States and in Mexico City.
Course questions/comments
(775)450-8374
This course will examine the code and design requirements for railing systems using cable as the railing in-fill material. Information about cables, frames, and both vertical and horizontal cable railing systems will be presented along with a review of specific design considerations and applications. In addition, appropriate frame construction, spacing, and tension requirements will be discussed along with details about mounting and tensioning hardware, devices, and fittings needed to properly install cable railing systems.
Learning Objectives:
Describe the unique design requirements for a railing using cable as a railing in-fill
Design the cable railing to meet the International Building code requirements of a cable guardrail system
List the different types of frames suitable to safely withstand the tension of a cable railing system
Explain the characteristics of different cable constructions
Choose the best hardware to attach the cables to different termination materials
Design Category (CSI Division):
Course & Quiz Details:
10 Multiple Choice and True/False Questions
A score of 80% or higher is required to receive a certificate of completion