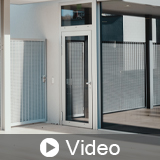 Receipt, Storage, and Installation of Hollow Metal Doors and Frames

About the Sponsor
Established in 1969, HMMA is a voluntary, non-profit business association composed of more than 60 member companies throughout North America. HMMA is the largest of the six divisions of the Chicago-based National Association of Architectural Metal Manufacturers (NAAMM), an organization established in 1938, with roots reaching back to 1907. Known throughout the consutruction industry for their strength, durability, design flexibility and suitability in demanding settings, hollow metal steel doors and frames remain the logical choice for discerning architects, engineers and specifiers who demand high quality and cost-effective solutions.
Course questions/comments
630-942-6591
In this one-hour course, design professionals will learn important techniques to properly install and operate hollow metal doors and frames. It will discuss how to properly receive and store hollow metal doors and frames prior to installation, safely install hollow metal doors and frames in a variety of existing and new applications, and ensure installations fit current code requirements. By the end of this course, design professionals will be able to consult the correct codes and regulations to correctly install hollow doors and frames in their own projects.
Learning Objectives:
Discuss the importance of inspecting hollow doors and frames upon receipt and storing these products properly prior to installation
Demonstrate the necessary steps to successfully install hollow metal frames, prioritizing worker safety and product durability
Evaluate anchoring systems and choose which type best applies to different applications based on wall construction
Recognize standards, product performance testing and education that promote safe installation and operation of hollow metal doors and frames
Illustrate the correct installation and anchoring techniques for hollow metal frames
Design Category (CSI Division):
(08) Doors, Windows and Openings