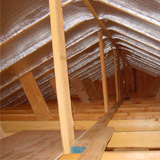 Reflective Insulation, Radiant Barriers, and Control Coatings

About the Sponsor
The Reflective Insulation Manufacturers Association International (RIMA-I) is the only trade association representing the reflective insulation, radiant barrier, and low-e reflective coatings industries. RIMA-I activities are guided by an active board of industry members that participate on national and local levels of building code organizations and governmental agencies. RIMA-I members were and still are very active in ASTM as well as ICA (Insulation Contractors Association) and ICAA, a national organization. With active membership of 24 organizations, (see membership list), from the US and Canada, RIMA-I continues to grow and promote the use and understanding of reflectives based on the same ideals as the founders nineteen years ago.
Course questions/comments
800-279-4123
Did you know that they key to maintaining a comfortable temperature is to reduce the heat transfer out of the building in the winter and into the building in the summer? Learn about reflective insulation, radiant barriers, and control coatings that will affect a building's ability to reduce heating and cooling loads.
Learning Objectives:
Discuss heat transfer, with an emphasis on radiant heat transfer
Explain the underlying principles of reflective insulation and radiant barriers
Clarify the differences between these two reflective technologies and illustrate applications best suited to each product
Describe the effective use of reflective insulation and radiant barriers
Design Category (CSI Division):
(07) Thermal and Moisture Protection