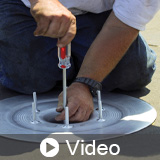 Roof Drainage Design: The Case for Re-Roofing Applications

About the Sponsor
OMG Roofing Products is a leading manufacturer and global supplier of high performance products for the commercial roofing industry. Our core business is manufacturing highly engineered roofing fasteners for virtually every type of roof substrate and roofing system. In addition, we manufacture insulation adhesives, roof drains and edge metal systems, and we supply other rooftop components such as pipe supports and solar mounts.
Course questions/comments
800.633.3800
Roof Drainage Design will help specifiers and commercial roof designers and installers understand common drainage problems on commercial roofs. The course addresses the importance of proper drain design, the basics of water flow and the impact of a vortex, drain options for re-roofing and new construction applications, as well as plumbing code changes for storm drain sizing and flow rates.
Learning Objectives:
Explain the importance of properly designed roof drainage and how it keeps occupants safe
Address the basics of water flow and the impact of a vortex
Compare and contrast the three types of roof drain installation and best practices in both new construction and re-roof applications
Describe the benefits of retrofit roof drains
Review the change in the International Plumbing Code (2015) in relation to storm drain sizing and flow rates
Review the ANSI/SPRI Standard RD-1 for Retrofit Roof Drains
Design Category (CSI Division):
(07) Thermal and Moisture Protection