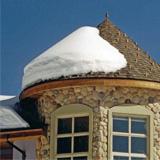 Roofing Solutions for Alpine Regions

About the Sponsor
TRA Snow and Sun was founded by Terry Anderson helped establish the concept of cold roof systems in the US. TRA Snow and Sun's products help provide you with safety from the dangers and expense of sliding snow and ice, effective and cost effective mounting systems for solar energy collectors, and flexible roof flashings which have gained international recognition. For over two decades, our products have been selected by hundreds of satisfied builders and property owners.
Course questions/comments
(801) 772-4703
This course provides an overview of the problems and solutions associated with roofing in cold climates, including a discussion on the proper engineering of snow retention devices.
Learning Objectives:
State the common roofing challenges that are unique to cold climates
Discuss the advantages and disadvantages of the everyday solutions to snow and ice difficulties
Compare the accepted roof design practices in Europe to those in the United States and Canada
Explain the concepts and effectiveness of roof ventilation and snow retention in reducing snow and ice problems
List the factors to be considered in the proper engineering of snow retention devices
Design Category (CSI Division):
(07) Thermal and Moisture Protection
Course & Quiz Details:
10 Multiple Choice and True/False Questions
A score of 80% or higher is required to receive a certificate of completion