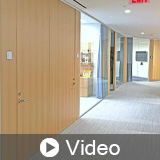 Safety & Security Redesigned: Bulletproof Millwork

About the Sponsor
SafeWood Designs has a clear mission: enhance the safety and security in all the places your live, work, worship, and play. Our experience and craftsmanship allows us to provide extraordinary protection at key thresholds, without compromising the current structure or décor. In addition to our almost endless ability to create your custom built vision, we have created a modular system that is based on years of custom-built solutions that integrate bullet resistant products. Our doors, wall panels, hardware systems, and furniture seamlessly integrate with existing building structures and features.
Course questions/comments
(844) 896-1800
Our changing world means that professionals must consider safety and security when designing schools, homes, places of worship, offices, and businesses. Join us in this one-hour course as we discuss ballistic and bullet resistant technology that protects occupants from weapons, impact, and explosives. Design professionals will not only learn how to evaluate bullet resistant materials for use in woodwork, doors, walls, windows, and furniture but also how to integrate the three thresholds of defense into any building design to keep occupants safe and secure.
Learning Objectives:
Recognize bulletproof millwork such as woodwork, doors, walls, windows, and furniture that protect against weapons, impact, and explosives
Identify standards and testing for bulletproof technologies and evaluate different products based on the protection required for occupants
Recall both traditional and non-traditional applications of bulletproof millwork and safety and security trends in building design
Apply knowledge of case studies to develop building designs that incorporate the three thresholds of defense to protect occupants in the event of an emergency
Design Category (CSI Division):
(06) Wood, Plastics and Composites