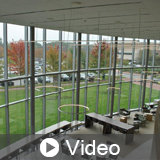 Showcase Quality Exposed Fireproof Columns

About the Sponsor
Since 1945, Black Rock Fireproof Column has manufactured durable, aesthetically designed prefabricated fireproof columns. Today, these columns are in use every day at construction projects throughout the country--saving owners time and money by reducing installation time and providing many advantages including factory fireproofing, consistent quality, increased durability and ruggedness unavailable with other forms of fireproofing, increased production times, and predictable scheduling.
Course questions/comments
(860)883-2669
Structural fire protection guards essential structural components from the devastating effects of fire. This course examines the various active and passive fire protection methods that are available. Examined in depth are the composition, manufacture, finishes, and design and installation considerations of prefabricated fireproof structural columns designed for exposed exterior and interior load bearing applications.
Learning Objectives:
Explain the difference between active and passive fire protection and strategies used in commercial building design
Define the applications, composition, shapes, features, and standards related to prefabricated fireproof structural columns
State the design and erection considerations related to prefrabricated fireproof columns, including column design, allowable safe loads, and through-shell connections
Discuss the lifetime cost savings that can be realized by utilizing prefabricated fireproof columns versus rigid board encasement, intumescent paint, and spray-applied coatings
Design Category (CSI Division):
(13) Special Construction