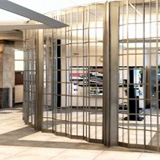 Side Folding -The Versatile Security Grille / Doors

About the Sponsor
Dynamic's atmosphere of innovation allows us to continuously improve our products, our methods and ourselves. We invest in new technology and in employee development. Providing an environment of empowerment with accountability allows every employee to share in the Company's success. Dynamic will only partner with suppliers of high quality goods and services so we can continue to raise the bar with outstanding products and Customer Service. We demonstrate daily that we are the leaders in our industry by producing innovative products of the highest quality, in the most efficient, timely and environmentally friendly manner.
Course questions/comments
(613)937-7300
Security grille doors are designed to be an affordable security solution for commercial applications anywhere in the world. In this one-hour course you will learn about Side Folding Grille doors and things you should know about their installation and applications. Product details will be shared along with an insight on what to look for in your search to find the right security system and for specification on your next project.
Learning Objectives:
List and define typical applications for security grille doors that ensure the safety of both occupants and installers
Recognize the main operation choices for grille doors and how to choose the correct product when specifying a job based on codes, durability and aesthetic requirements
Describe the mounting and layout options for side folding doors and learn how they can influence or complement the overall design integrity of your project
Identify the curtain and panel material choices and how they can work to achieve continuity in your design
Design Category (CSI Division):
(08) Doors, Windows and Openings