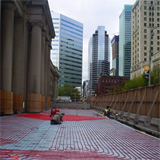 Snow and Ice Melting Systems: The Power to Melt Snow and Ice for Safety and Efficiency

About the Sponsor
As a leading supplier of polymer-based solutions to construction, REHAU addresses sustainable design priorities by engineering products that enhance comfort and convenience, reduce energy costs, create healthy and safe environments, and conserve finite resources. REHAU's products and systems for the window and door, heating and plumbing, fire protection and pipe markets complement each other in integrated high-performance solutions.
Course questions/comments
703-777-5255
This course provides a fundamental understanding of hydronic snow and ice melting systems in terms of benefits, applications, installation, performance and costs.
Learning Objectives:
Indicate the typical benefits of SIM systems including convenience, safety, and lowered operating and maintenance costs
Describe the three most common installation techniques
List the typical applications and describe why choosing certain spaces can lead to reduced owner liability
Name the five design steps
Discuss the most common control strategies and how anticipating control strategies reduces the likelyhood of slippery conditions
Explain how to estimate operating costs
Articulate how to estimate installation costs
Design Category (CSI Division):
(23) Heating, Ventilating and Air Conditioning
Course & Quiz Details:
10 Multiple Choice and True/False Questions
A score of 80% or higher is required to receive a certificate of completion