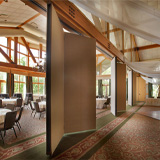 A Sound Decision: Acoustics & Operable Partitions

About the Sponsor
As an industry leader in the moveable wall concept, Modernfold delivers the highest-quality, custom wall solutions from start to finish. Our operable partitions and architecturally-striking glass wall systems wow customers and provide them with endless possibilities for their environments. Where others see only space, Modernfold sees possibilities.
Course questions/comments
(317)468-6738
Acoustical control is a critical factor in virtually every type of environment; therefore selection of the appropriate operable partition is critical. It is important when choosing an operable wall system to not only consider the space /configuration of your application and how the wall operates, but to also examine the wall's acoustical performance. Join us in this one-hour course as we discuss the right wall system, in conjunction with complementing architectural elements, to help produce excellent acoustical control.
Learning Objectives:
Identify the ways acoustics can be measured and how high acoustic levels can effect the physical, mental, and social health of occupants
Illustrate how operable partitions can be used to reduce sound transmission and create multiple configurations that are quiet and effective for a variety of users
Analyze field sound tests used to ensure materials and products comply with standards and guidelines for safe acoustical levels in various applications
Discuss how operable partitions can help projects apply for LEED category credits that guide design professionals in creating spaces that allow occupants to live and work in peace
Design Category (CSI Division):