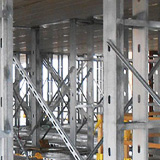 Specifying Structural and Nonstructural Steel Framing per IBC 2018

About the Sponsor
As ClarkDietrich, we are now truly able to answer the challenges of any project, regardless of size or complexity. With a complete lineup of innovative products, plus technical support services and smart tools for design and specification, we're forging a new future for steel framing.
Course questions/comments
(330)974-0835
Having an up-to-date specification starts with understanding what is in the building code. This course reviews the requirements that steel framing must meet to be compliant to IBC 2018. It covers the standards for manufacturing tolerances, minimum thickness and protective coatings. Lastly it will review fire-rated partitions.
Learning Objectives:
Identify new standards to specify per IBC 2018
Define Structural and Nonstructural Studs
Describe Fire-Rated Assemblies and ensure they are compliant
Understand Manufacturing and Installation Requirements for code compliance for occupant safety
Design Category (CSI Division):