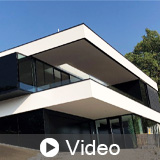 Three Coat Stucco System - Update

About the Sponsor
SMA is a non-profit trade association comprised of the major manufacturers of stucco in North America and their related suppliers. Since 1957, SMA has actively engaged in promoting the products manufactured by our members, while holding high standards. Our members, the leaders in the industry, are committed to maintaining the highest levels of product quality,business ethics and professionalism among the membership and the building industry.
Course questions/comments
949-640-9902
This one-hour course will explain the benefits of three coat stucco systems, which include fire resistance, moisture management, climate zones, life cycle data, care & maintenance. The course will also explain in detail what codes are applicable for the different wall assemblies available to the use of three coat stucco systems.
Learning Objectives:
Identify what the features & characteristics are in using three-coat stucco systems and how they benefit the health and welfare of both installers and building occupants.
Illustrate the basics of three-coat stucco system detailing to improve building performance
Explain the different finishes for "three-coat stucco" including texture and color options
Describe the various care and maintenance methods and techniques for three-coat stucco including regional practices to meet impacts of climate change and increased energy codes
Design Category (CSI Division):
Course & Quiz Details:
10 Multiple Choice and True/False Questions
A score of 80% or higher is required to receive a certificate of completion