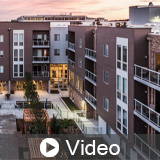 Thru-The-Wall: HVAC Specification for Multi-Unit Applications

About the Sponsor
National Comfort Products is a premier manufacturer of thru-the-wall heating and cooling products perfect for new construction and/or replacement multi-family projects. Our products are well known throughout the industry for their quality, reliability, easy-to-service design and backed by strong warranties.
Course questions/comments
800.523.7138
Efficient HVAC design is paramount for multi-family building projects as it impacts efficient air delivery, unit serviceability and occupant comfort. Join us in this one-hour course as we discuss how thru-the-wall HVAC systems can provide an optimal solution in multi-unit project applications. Participants will learn best practices for specifying and installing thru-the-wall systems that increase energy efficiency and thermal comfort.
Learning Objectives:
Compare and contrast multi-unit HVAC system options in terms of installation, serviceability, and architectural flexibility
Identify the environmental and economical benefits of thru-the-wall systems, including reduced material waste, labor, installation time, and long-term maintenance
Discuss important factors to consider when specifying a thru-the-wall HVAC system to ensure proper equipment sizing, energy efficiency, and performance
Apply best practices when installing thru-the-wall HVAC systems, including placement, clearances, and water drainage, for optimized energy efficiency and occupant comfort
Design Category (CSI Division):
(23) Heating, Ventilating and Air Conditioning