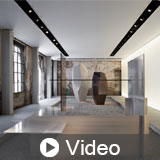 Understanding Pyrolithic Stone Material

About the Sponsor
GEOLUXE is a breakthrough "Pyrolithic Stone" with noble beauty of natural marble with superior technical performance. The material is made from a complex mixture of 100% mineral-based materials through a patented Geomimicry forming technology which enables realistic marble-like veins throughout the slab body. Thanks to its perfect characteristics, the material overcomes the imperfections associated with natural stones and most other surface materials. GEOLUXE offers an ultimate combination of elegance and performance.
Discover how nature continues to inspire and influence not just the design and fabrication of our building materials, but also the sustainability and performance of those materials. Learn how advancements in technology and the process of geomimicry are making the fabrication of higher-quality surfacing materials such as pyrolithic stone possible, which provide the architectural and stylistic advantages of natural stone (such as quartz and marble) with increased sustainability while overcoming performance drawbacks.
Learning Objectives:
Discuss the influence of nature and natural processes on sustainable design, the development of new building material technologies, and impacts on occupant health and well-being.
Define "geomimicry" and discuss the manufacturing process and characteristics of "pyrolithic stone" includihng anti-thermal shock properties.
Compare and contrast pyrolithic stone performance with traditional materials such as marble, granite and quartz.
Identify the design flexibility and application options of pyrolithic stone, as well as best practices for installation.
Design Category (CSI Division):
Course & Quiz Details:
10 Multiple Choice and True/False Questions
A score of 80% or higher is required to receive a certificate of completion