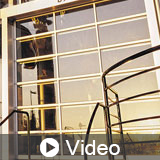 Upward Acting Sectional Doors

About the Sponsor
Clopay has been manufacturing Commercial sectional doors as part of our product offering since 1964. We are the largest manufacturer in the United States for sectional overhead doors, and all products are manufactured exclusively in this country. Adherence to ASTM standards, Federal Specifications, and over-all quality are the foundation for our success. Our products are all built to meet or exceed DASMA standards.
Course questions/comments
(972)900-1949
There are many factors to consider when selecting the right large opening door solution to specify. Knowing the benefits and drawbacks of the types of large openings doors avaialable can make this decision easier. From fast-opening doors, to doors that maximize view, to doors that make a statement, discover how sectional doors provide an array of door solutions to meet your design needs.
Learning Objectives:
Identify when to specify an upward sectional door and why
Identify the different types of sectional doors and their major differences
Discuss differing mounting conditions, headroom and side room considerations, and types of lift and operators
Identify safety concerns when specifying doors and operators as well as specialty door solutions
Design Category (CSI Division):
(08) Doors, Windows and Openings
Course & Quiz Details:
10 Multiple Choice and True/False Questions
A score of 80% or higher is required to receive a certificate of completion