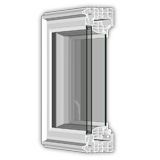 The Use of Sound Control Fenestrations In Building Design

About the Sponsor
Silent Guard represents the most sophisticated technology available in sound control windows and doors. These technologically advanced products deliver cutting edge sound supression, outstanding energy efficiency and the aesthetics beauty and maintenance-free qualities of premium vinyl windows and doors.
Course questions/comments
(707) 980-3303
This course will review the basic science of sound and sound control, including ratings of acoustic performance, testing & certification of acoustic fenestration products. Considerations and methods when designing buildings and their systems will be covered as well.
Learning Objectives:
Analyze the need for and purpose of acoustic fenestration in building design and construction
Define the basic science of sound and sound control
List the various ratings of acoustic performance
Explain testing and certification of acoustic fenestration products
Describe the design considerations and methods of testing acoustic performance of fenestration products
Recognize the types of acoustic fnestrations available on the market
Describe the acoustics as a system within the building design
Design Category (CSI Division):
(08) Doors, Windows and Openings
Course & Quiz Details:
10 Multiple Choice and True/False Questions
A score of 80% or higher is required to receive a certificate of completion