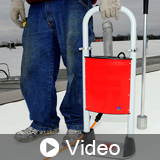 Using Electromagnetic Induction Welding to Secure Roofs

About the Sponsor
OMG Roofing Products is a leading manufacturer and global supplier of high performance products for the commercial roofing industry. Our core business is manufacturing highly engineered roofing fasteners for virtually every type of roof substrate and roofing system. In addition, we manufacture insulation adhesives, roof drains and edge metal systems, and we supply other rooftop components such as pipe supports and solar mounts.
Course questions/comments
800.633.3800
In this one-hour course, we will review the process of electromagnetic induction to see how it is used in our world today. Then, we will discuss how that process has been adapted for use installing commercial roofing systems. In addition, we will review other installation methods and compare them to the electromagnetic induction method to reveal key advantages, including better wind performance, lower potential for leaks due to fewer seaming and no membrane penetrations, and greater installation efficiency.
In addition, we will explore proper installation methods, test results, best practices, and applications as well as examine how electromagnetic induction installation can help to enhance and fortify the entire roofing system.
Learning Objectives:
Define electromagnetic induction welding and explain how the process is applied to the roofing industry to better secure the building envelope
Compare the electromagnetic induction process to traditional methods of single-ply installation to discover key advantages, including material savings, wind performance and installation efficiency
Explain the installation process to ensure proper procedures are being followed to better protect the building and its inhabitants
Analyze best practices as well as project applications to identify ways that the electromagnetic welding process improves the overall effectiveness of the entire roofing system
Design Category (CSI Division):
(07) Thermal and Moisture Protection