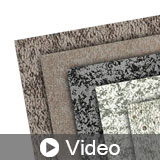 Walkable Thermoplastic Deck and Roofing Membrane System Installation

About the Sponsor
Dec-Tec delivers proven waterproofing and roofing solutions for balcony and roof deck applications. As North America's leading innovator in pedestrian traffic bearing PVC membranes, along with industry leading system accessories and components, water intrusion problems on deck areas are a thing of the past. Whether you are planning an outdoor living room to gather with friends and family, or an apartment building that requires unparalleled waterproofing and low maintenance costs, we have the solution.
Course questions/comments
403-250-5507
This course introduces walkable thermoplastic deck and roofing membrane systems and describes the system advantages. Includes over a dozen membrane construction videos and illustrates design considerations for incorporation into the building envelope.
Learning Objectives:
Define walkable thermoplastic deck and roofing membrane systems and compare it to other systems in terms of safety, sustainability and aesthetics
Describe the system's advantages including long life cycle, durability and performance
Review the design considerations for the system and its building envelope to ensure the structure is safe for occupants and installers
Specify walkable thermoplastic deck in the design project to better protect the building, its occupants and property
Design Category (CSI Division):
(07) Thermal and Moisture Protection