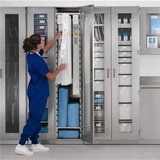 Efficient Storage Solutions for Healthcare Facilities

About the Sponsor
Stanley InnerSpace, headquartered in Grand Rapids, Michigan, is a market leader in storage and inventory solutions designed for the healthcare industry. Since 1985, InnerSpace has specialized in providing supply/procedure carts, cabinets and casework, open storage, heavy-duty storage, and inventory management systems to medical facilities around the world.
Course questions/comments
888-622-6992
Did you know that proper planning of storage space can help your client's bottom line? This course delves into the basic principles of proper storage design in healthcare facilities and specific design considerations that would benefit your project.
Learning Objectives:
Describe the storage conditions and challenges within healthcare facilities
Explain the basic principals of proper storage design in healthcare facilities
Explain the relationship between interior linear feet of storage space versus floor square footage
List the department and procedure specific design considerations
Explain how proper planning of storage space can help your client's bottom line
List the qualities to look for when choosing a storage system company
Course & Quiz Details:
10 Multiple Choice and True/False Questions
A score of 80% or higher is required to receive a certificate of completion