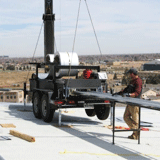 Portable Rollforming, Applicable Engineering & Installation Details
About the Sponsor
Sheffield Metals International is a leader in the distribution of coated and bare metal products as well as Engineered Standing Seam Metal Roof Systems. Our company specializes in providing painted Galvalume® and aluminum for the architecturally driven metal panel industry. A large portion of Sheffield's business includes military and municipal projects where technical knowledge is essential. With a full time, in house Technical Department and experienced Sales Team combined with our 35 year Kynar paint and optional5 to 35 year weathertight warranties, we are able to provide the complete package and support forour customers continually throughout the most complicated projects.
Course questions/comments
800-283-5262
During this one hour online course, design professionals will gain insight into the benefits of portable rollforming including efficiency, flexibility, and sustainability. We will review applicable engineering, testing standards, and installation details and conclude the course with a brief 10 question quiz.
Learning Objectives:
Explain the benefits of portable rollforming
Discuss how a UL 90 rating is achieved and what to look for in UL
Specify applicable uplift testing requirements based on the project deck assembly
Recognize the appropriate cost effective installation details to utilize based upon job specific conditions
Design Category (CSI Division):
(07) Thermal and Moisture Protection
Course & Quiz Details:
10 Multiple Choice and True/False Questions
A score of 80% or higher is required to receive a certificate of completion