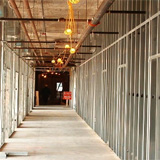 Proper Specification and Installation Recommendations for Nonstructural Wall Framing

About the Sponsor
As ClarkDietrich Building Systems, we are now truly able to answer the challenges of any project, regardless of size or complexity. With a complete lineup of innovative products, plus technical support services and smart tools for design and specification, we're forging a new future for steel framing.
Course questions/comments
330-372-5564
Understand the ASTM standards that are typically specified for the material, manufacturing, and installation requirements for drywall studs. This course explains the requirements for drywall studs per ASTM C645 and ASTM C754, and describes how to specify fire-rated partitions.
Learning Objectives:
List the ASTM standards that are typically specified for the material requirements and manufacturing and installation requirements for drywall studs
Explain the minimum physical requirements for drywall studs per ASTM C645
Explain the minimum installation requirements for drywall studs per ASTM C754
Describe how to specify fire-rated partitions
Course & Quiz Details:
10 Multiple Choice and True/False Questions
A score of 80% or higher is required to receive a certificate of completion