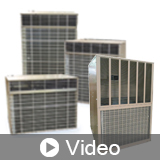 Why Thru-the-Wall? A Guide to HVAC Specification for Multi-Unit Application

About the Sponsor
National Comfort Products is a premier manufacturer of thru-the-wall heating and cooling products perfect for new construction and/or replacement multi-family projects. All products use environmentally friendly R-410A refrigerant. Our products are well known throughout the industry for their quality, reliability, easy-to-service design and backed by strong warranties.
Course questions/comments
800.523.7138
Efficient HVAC design is paramount for multi-family building projects and impacts efficient air delivery, unit serviceability and, of course, occupant comfort. Discover how thru-the-wall HVAC systems can provide an optimal solution in multi-unit project applications.
Learning Objectives:
Compare and contrast multi-unit HVAC system options in terms of installation, serviceability, and architectural flexibilty
Identify the savings potential of thru-the-wall systems in terms of installation time, labor, materials, and long-term maintenance
Discuss what to look for when specifying a thru-the-wall system
Identify best practices for specification and installation of thru-the-wall HVAC systems
Design Category (CSI Division):
(23) Heating, Ventilating and Air Conditioning
Course & Quiz Details:
10 Multiple Choice and True/False Questions
A score of 80% or higher is required to receive a certificate of completion