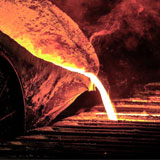 Architectural Castings: Traditional Elegance & Tomorrow's History - 2018

About the Provider
Marcoza Castings is a manufacturer of bronze and aluminum sand castings producing custom designed bronze architectural plaques, bronze memorials as well as bronze and aluminum historical reproductions. With its production facilities in Fort Worth, Texas, Marcoza Castings is centrally located to conveniently serve the entire United States and fulfill the growing demand for high quality bronze signage and bronze memorials.
Course questions/comments
800-678-4848
Learning Objectives:
Examine various historical applications of cast bronze and brass products and their impact on the evolution of civilization.
Identify the benefits and differences between cast metal and other alternative sign mediums in terms of durability and longevity as well as design.
Discuss the characteristics and composition of bronze, brass and aluminum and examine the production cycle of manufacturing a custom sand cast plaque-sand casting process, and its ease of installation and maintenance.
Explain the inherent sustainable characteristics and benefits of cast metal, and identify what to look for in a manufacturer when specifying metal plaques, signs and decor items.