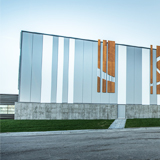 Building Envelope Fundamentals and Design Solutions with Insulated Metal Panels

About the Provider
For over 25 years, the Norbec Group has been offering innovative, value-added solutions to its customers' needs. With the introduction in 2008 of the Norex® and Noroc® lines, Norbec Architectural now offers a complete range of solutions for building envelopes that combine advances in insulation with construction expertise.
Course questions/comments
603-727-8366
Learning Objectives:
Discuss the advantages of designing with IMPs. Recognize how the IMP can offer the designer a solution for the building envelope, to resist varied and severe weather conditions, including fire safety, durability cost and energy efficiency. Understand jointed components.
Identify cost savings and the efficiencies related to IMP installation in today's competitive market.
Identify how IMP's can open up building concepts to take advantage the IMP's easy systems and physical benefits, their ability to adapt to existing structures and turn-key buildings.
Discuss how IMP's can contribute to earning credits on LEED projects.
Review projects where IMP's were able to create a tangible difference. Identifying and solving potential issues ahead of time, and providing solution driven options.