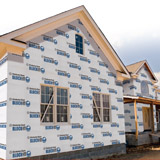 New textured and breathable weather-resistant barriers maximize drainage and protection from air infiltration

About the Provider
Kimberly-Clark® is leveraging our nonwovens expertise with a line of building materials designed to keep moisture out, but let vapor escape. Our Kimberly-Clark BLOCK-IT® product line is made in the USA with patented technologies. We know the quality of the structure you build depends on the quality of the weatherization products you choose. With Kimberly-Clark BLOCK-IT® products, you can have confidence in the weatherization of your structure.
Course questions/comments
844-BLOCK-IT
Learning Objectives:
Compare various types of weather-resistant barriers in terms of their ability to effectively minimize moisture and air infiltration and allow drainage of water in the wall cavity.
Explain how to overcome potential problems in the installation process in order to maximize the effectiveness of the specified house wrap material.
Discuss the ways in which house wraps contribute moisture management and enhance green building goals.
Identify the key considerations in proper specification of a house wrap product to ensure occupant health and safety and consistency with sustainability objectives.
Design Category:
(07) Thermal and Moisture Protection