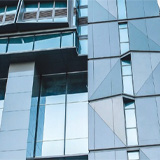 Powder and Liquid FEVE Coatings for Curtain Wall & Other Architectural Applications

About the Provider
AGC Chemicals Americas manufactures, markets and sells high-quality fluoroproducts including Fluon® fluoropolymer resins and compounds and AsahiKlin fluorinated solvents. Our Company also markets and sells specialty chemicals including LUMIFLON™ fluoropolymer resins, Asahi Guard E-SERIES water and oil repellants, F-CLEAN® greenhouse films, Solesphere fine silica additives, and various fluoro intermediates.
Course questions/comments
805-428-6743
Learning Objectives:
Discuss the differences between Conventional and High Performance FEVE coating technology, as well as considerations when selecting a coating system, and the application and performance characteristics of FEVE coating systems.
Discuss real-time and accelerated testing of FEVE coatings that demonstrate their proven performance in terms of corrosion resistance, and color/gloss retention over long periods of time.
Quantify cost and environmental considerations of FEVE coatings regarding life-cycle and the LEED v4 rating system.
Review real-world applications and proper specification guidelines.