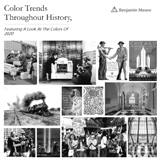 Color Trends Throughout History - A Look at 2020

About the Sponsor
When it comes to premium paints and stains for your home, Benjamin Moore has set the standard for excellence, since 1883. We manufacture our own resins and exclusive Gennex® colorants, which deliver superior performance and application properties in every product. Paired with our incomparable selection of authentic colors, Benjamin Moore paints are formulated to help you achieve beautiful, lasting results—every time you paint.
Course questions/comments
(866) 708-9181
Friday, March 20, 2020 - 12:00pm to 1:00pm EDT
In this CEU, we will take a step back to evaluate color trends throughout the significant eras, and discuss how trends tend to resurface in ways that feel new or fresh for the period.
Learning Objectives:
Recognize the color-related similarities, differences and patterns that emerge between time periods.
Identify the key colors associated with historical periods from 1880 to the present.
Understand how the most prevalent colors used during a time period relate to the social and cultural climate.
Discuss how the color preferences of the past can help us anticipate future color trends and why these trends are relevant for the given period.