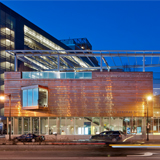 Copper in Architecture - Webinar

About the Sponsor
Copper Development Association Inc. (CDA) is a U.S-based, not-for-profit association of the global copper industry, influencing the use of copper and copper alloys through research, development and education, as well as technical and end-user support. CDA is committed to promoting the proper use of copper materials in sustainable, efficient applications for business, industry and the home. Copper Development Association Inc. promotes the goals of our members while serving the needs of the users, purchasers, designers and specifiers of copper and copper alloy products.
Tuesday, June 11, 2019 - 12:00pm to 1:00pm EDT
The copper in Architecture Webinar is a one-hour introduction to Copper Brass and Bronze use in building construction. The program covers useful physical properties of copper and copper alloys, the inherent sustainability of these materials and contribution to a building's sustainability. Images provide examples of good design practice, as well as examples of situations where design could be improved. Discussion of industry standard common design practice and situations to avoid are followed by a question and answer session.
Learning Objectives:
Identify where copper comes from and how it is defined as sustainable
Describe copper's physical properties and how design professionals make use of these properties when designing high performance, efficient, safe, buildings, and infrastructure
Discuss basic architectural design practice, available technical resources, design assistance, and situations to avoid
Explain what an alloy is and identify common copper alloy families: Brass, Bronze, and Nickel Silver
Discuss recent copper projects and provide examples of current copper/copper alloy use as roofing, wall cladding, and ornamental systems. Images reinforce good design practice, as well as situations where design could be improved