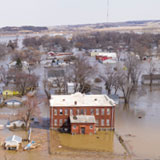 Flood Design, Construction, and Impacts on Flood Insurance

About the Sponsor
Working, designing, and living in a flood zone can be complicated when figuring out which proper floodproofing system you need for your home or project. Floodproofing.com will supply you with state-of-the-art floodproofing application that follow all of the latest flood codes and regulations enforced by the NFIP, FEMA, local town ordinances. Our Certified Floodplain Managers are here to provide the proper mitigation steps while also helping to reduce flood insurance premiums.
Course questions/comments
1-800-507-0865
Wednesday, October 2, 2019 - 12:00pm to 1:00pm EDT
Discuss property's flood zone, map errors, urban sprawl on drainage, adverse impacts of development in flood zones and climate changes in addition to a number of factors.
Learning Objectives:
Describe floods, floodplains, and the potential hazards to buildings.
Explain the difference between wet and dry flood proofing techniques.
Identify regulations, codes and standards as they relate to sustaining foundations in the flood hazard areas.
Define the differences in engineering and non-engineered flood openings and their ability to ensure resilient structures.
Analyze the role of building compliance in securing lowering flood insurance rates and what mitigation solutions are available.