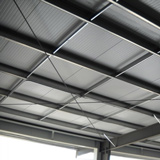 Insulated Roof Decks

About the Sponsor
All Weather Insulated Panels (AWIP) is an innovator in the design, construction, and advancement of foam composite insulated metal panels. We are strategically positioned to meet the growing energy, environmental and economic challenges facing the North American building industry with two state-of-the-art continuous line manufacturing facilities: Vacaville, CA and Little Rock, AR. From freezing, sub-zero temperatures to dry heat or high humidity, Mother Nature continually tests the limits of buildings. Products from All Weather Insulated Panels (AWIP) are specifically engineered to maintain interior climate control regardless of external weather conditions. Discover the wide range of insulated wall and roof panels, colors, finishes, dimensions, concealed fastening systems, trims and engineering systems that will help you unleash your full design capabilities while meeting environmental and building code regulations.
Thursday, November 19, 2020 - 12:00pm to 1:00pm EST
A discussion on the increasing adoption of insulated roof decks in the North American, including descriptions on what insulated metal roof decks entail, comparisons of insulated metal roof decks with more traditional systems, and design considerations for insulated metal roof decks.
Learning Objectives:
Understand the concept of Insulated Roof Deck Technology and why they have been developed.
Articulate the benefits of Insulated Roof Decks when compared to more traditional materials used in commercial low slope roofing.
Outline the diaphragm sheer and non-diaphragm options for Insulated Roof Decks.
Realize the proper design & application strategies for Insulated Roof Decks.