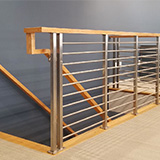 Prefabricated Ornamental Railings

About the Sponsor
About AGS Stainless Fabricated Off-Site, Custom-Made, All-Stainless Steel Railing Systems. Why demand prefabrication for your custom rails? Because whether you chose cable, glass or bar infill - having the railing system built 100% offsite reduces product cost, improves product quality and dramatically shortens installation time.
Course questions/comments
888-842-9492
Friday, November 15, 2019 - 12:00pm to 1:00pm EST
Today builders are feeling the impact of a tightening labor market.
One of the ways architects can assist contractors to continue to succeed - even as securing additional skilled labor becomes more difficult - is to include prefabricated (built off-site) architectural products in their designs.
Utilizing prefabricated architectural products allows the contractor to make greater use of lower skilled workers in the construction of the project.
Prefabricated architectural products also reduce project waste and shorten product installation time.
Learning Objectives:
Explain the advantages of a prefabricated custom railing system and an all stainless steel railing system.
Compare and contrast the railing system materials used for posts, top rails, and infill.
Describe common challenges with locally fabricated metal rail systems.
Evaluate how stainless steel railing systems meet health, safety, and welfare requirements.