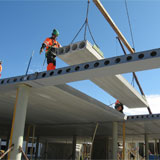 Slim Floor Structures

About the Sponsor
Peikko is a family-owned company founded in 1965, headquartered in Lahti, Finland. Peikko supplies a large selection of concrete connections and composite beams for both precast and cast-in-place solutions in a wide variety of applications. Peikko's innovative solutions make your construction process faster, safer, and more effective.
Course questions/comments
888 734 5561
Tuesday, December 14, 2021 - 12:00pm to 1:00pm EST
The right slim floor allows professionals to be flexible when creating long open spaces in any building. Join us in this one-hour course as we discuss slim floor systems and their many benefits, such as increased fire resistance and energy efficiency. Participants will learn about each type of slim floor system and be able to select the appropriate one for a specific site based on case studies from a variety of project applications.
Learning Objectives:
Identify slim floor systems and apply knowledge to appropriately specify and safely install them to meet each project's specific needs
Recall the many benefits of slim floor structures, such as reduced building materials, increased fire resistance, and reduced carbon footprint
Explain the construction characteristics of slim floor structures and how they contribute to greater flexibility and efficiency on the jobsite
Develop designs that incorporate slim floor structures in a variety of building types by analyzing case studies on different applications