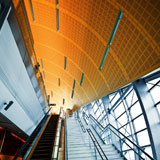 Why Powder Coatings are a Good Choice for Driving Sustainability Initiatives

About the Sponsor
With their superior performance and life cycle cost advantages, it's no wonder fluororesin paints based on LUMIFLON have been applied to more than 150,000 industrial and architectural structures worldwide. LUMIFLON based coatings maintain gloss and color when applied to buildings, bridges, water towers, aircraft, automobiles, and other structures for over 35 years. They also protect steel, aluminum, fiberglass, concrete, and other materials of construction from corrosion, sunshine, wind, and rain. The use of LUMIFLON resins can substantially reduce life cycle costs, including maintenance cost, replacement cost, and re-coating costs. LUMIFLON resins are available in conventional solvent grades. Powder coated, water based resins and solid resins allow for the production of low VOC and HAPS free environmentally friendly coatings.
Thursday, December 2, 2021 - 12:00pm to 1:00pm EST
This CEU is designed to introduce architects and designers to powder coating technology and explain the product, application, and performance benefits. While architectural powder coatings are the standard coating technology for metal building elements in Europe today, they are now gaining acceptance and traction in the North American market as well. The goal of this course is to highlight the key attributes of the technology and how they can contribute to the sustainability goals of the project. We will walk through the coating technology itself, how it's applied, and use cases for the different powder coatings categories on a project. Participants will walk away with an understanding of why powder coatings are an environmentally friendly choice to deliver outstanding color and finish on the metal elements of their next project.
Learning Objectives:
Define the components of powder coatings and what gives them their properties and benefits to the building and occupants
Identify how powder coatings help protect the long-term integrity of your design and keep occupants and installers safe
Describe how specification and usage of powder coatings can help you achieve the sustainability goals of your next building project
Integrate strategies for successfully specifying powder coatings in your next project