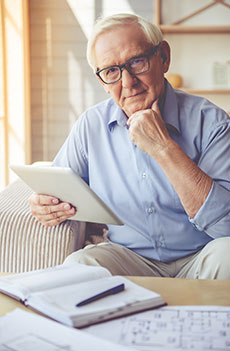 From our humble beginnings that were sketched out on Ron Blank's mother's kitchen table, a vision was conceptualized for connecting architects and building product manufacturers in a way that had not been done before. Since that moment, RBA has strategically evolved into a multi-platformed suite of services for building product manufacturers and design professionals that aim to connect, educate and energize the professional goals of those who engage them.
RBA: Past, Present, and Beyond
Ron Blank started his company in 1985 based on one underlying mission, to bridge the gap between design professionals and product manufacturers. Ron started the business in San Antonio, Texas. Everything is big in Texas and so were his dreams of starting the first nationwide architectural specifications program for manufacturers.
Before Al Gore invented the Internet, Ron would drive his 1981 Oldsmobile through the back roads of Texas and Louisiana presenting different products to architects. From Paris, Texas to Baton Rouge, Louisiana, Ron blazed a trail across the South as he educated and entertained architects. His ten years of experience in designing and consulting on major commercial tilt-up projects throughout Texas helped. Eventually, RBA expanded to three people and his mother Alice was hired to run everything at the front office for nearly a decade. This was the era of pagers, Compaq computers, and parachute pants. As Ron's product lines expanded, so did his coverage across the United States.
As the years went by, Ron saw a need for easily accessible continuing education for design professionals. He developed one of the first online learning centers for design professionals around the world to earn their Continuing Education credits. From its success, the company grew and moved to new headquarters where it still resides. Ron's dream of bridging the gap between design professionals and product manufacturers is still his mission after 30 years.


Our Continued Commitment
To this end, our team is dedicated to designing engaging, relevant continuing education programs for design professionals to help them maintain their professional credentials while staying current on new and innovative building technologies and trending hot topics. From our online course library to scheduled webinar and lunch-and-learns, we seek to provide our users with a variety of education delivery formats while enabling direct connection between course sponsors/Subject Matter Experts and design professionals. Our goal is to help make connections, providing you with the right resources and a valuable network.