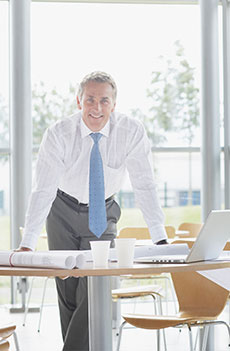 Online Courses:
Most Recent Titles by Sponsor
Building product manufacturers sponsor the free AIA continuing education courses on our platform. Course sponsors also include trade associations and non-profit organizations who want to promote best practices and code requirements. Course sponsors are experts in their industries and CSI divisions. Sponsored courses award free AIA HSW hours and contain real-world practical knowledge. Some of the free AIA courses also award IDCEC credits. Ron Blank & Associates welcomes companies to submit their online AIA CE course for distribution, or to work with our team to develop a sponsored AIA course.

Americana Outdoors specializes in creating the elements for life outside: Shelters, Shade Structures, Sports Equipment, & Site Amenities.

Your facility's roof protects a huge percentage of your assets and happens to be home to mission critical systems such as your HVAC, plumbing, electrical and even solar. So when integrating these systems on your roof, it's vital to make sure all components mesh well while leaving your roof watertight, within code, and maintaining your roof's warranty.Joel Stanley, our founder and pioneer, recognized this need and began designing a universal anchor that would be a seamless, non-penetrating component of the current roof system while providing the strength and engineering required to keep equipment in place. Fast forward several years – after designing, testing, and consulting with roofing experts around the globe for every environment – that universal anchor, now known as the U-Anchor, was born.

Helix Steel was first developed as part of a research project that challenged University of Michigan Engineers to create a reinforcement technology that could product provide quantifiably better resiliency, ductility and elasticity to concrete structures. After years of applying the Twisted Steel Micro-Rebar™ reinforcement technology to various use cases and stringent test case scenarios, it was decided to incorporate and bring Helix Steel to the market in 2003. One of the initial focus areas where Helix Steel collaborated with the U.S. Army Corp of Engineers was as an alternative to rebar in blast resistant applications where rebar was not good enough and too cumbersome for use.

Only ForeverLawn® synthetic grass offers you unmatched realism built on a proprietary technology platform that ensures quality of our artificial grass products from the ground up. With ForeverLawn, the possibilities are endless. ForeverLawn isn't just synthetic turf, it is a commitment to honesty and integrity in business and a desire to make you glad you chose us. At ForeverLawn, we're not just ahead of the curve, we're defining it.

For more than 30 years, ASTA AMERICA, has provided high-quality products with unparalleled service to the commercial industrial markets. We started as a small, family business back in 1990, and we've grown quite a bit over the past three decades. Today, we have two state-of the-art production facilities in Georgia and Texas and offer a full-line of rolling steel and commercial roll-up and slat doors. Though we continue to grow and innovate to meet customer demands, there are somethings we'll never change. We continue to build on the heritage and tradition of treating our customers like family and providing top-performing, high-quality products without hassle. As our product offering and the markets we service continues to expand, our family-run values remain unchanged.

As an industry leader in the moveable wall concept, Modernfold delivers the highest-quality, custom wall solutions from start to finish. Our operable partitions and architecturally-striking glass wall systems wow customers and provide them with endless possibilities for their environments. Where others see only space, Modernfold sees possibilities.

When you build with Morton, you build something that lasts. A Morton stands the test of time- we've been at this for more than 110 years after all. What got us here is simple: our materials, our people, and warranty that beats all others. In the construction industry, you get what you pay for, and cheaper is rarely better. With Morton, you get the most for your money. There's a reason for that: Quality. We want your building to be one you are proud to show off and pass down to future generations. Morton Buildings is also a 100% employee-owned company. Employee ownership means that we are all committed to being the industry leader with a focus on innovation, service, and quality, but most importantly, making sure each customer is completely satisfied with their decision to build Morton. Whether it's residential or agriculture, commercial or community, Morton Buildings brings more than 100 years of experience to all our projects.

Founded in 1962 as one of the original cultured marble companies in the U.S., experience is a trademark at MPL. This experience is now focused on the hospitality , student housing, and multi-family housing markets. Seeing large projects through to completion is our forte. We at MPL Company understand the pressures on our customers to open revenue producing properties. Our commitment to outstanding customer service results in a loyal customer group. By focusing on customers, and not projects, MPL realizes significant repeat business. The experience factor starts with our sales representatives. Not only do our sales representatives understand the project requirements, they know how to coordinate order placement, delivery, and installation – on time. MPL's commitment to you includes premium product features. Using the highest quality raw materials and unique production processes allows our products to withstand the unique challenges of a construction site.

InnerSpace® specializes in stationary and mobile medical storage solutions for all areas of your healthcare facility, from cath labs and radiology to central supply and pharmacy. Our product offering includes a mobile medical carts, stationary medical cabinets, and open storage that efficiently organize supplies and equipment and support staff and facility effectiveness. We offer complimentary storage analysis and CAD/Revit design services.

GBA Architectural Products + Services was founded in 1985 by Jeff Boesch of Medina, Ohio in his family's garage. A few years later he was joined by his younger brother Steve, and eventually his older brother Chuck joined the business. Together the three brothers used their different skill sets to make GBA the successful and highly respected company that it is today. GBA started off as a small business focusing on supplying and installing glass block basement windows in Northeast Ohio. Over the years our scope of work has broadened to high performance glass block, structural glass and walkable skylights. We are a specialty contractor that has the ability and experience to complete any size glass block or structural glass project. We now concentrate on high end homes and commercial buildings all over the United States and beyond.

Established in 1955 and sold in over 140 countries, Beko is recognized as the number one home appliance brand in the European Market. Beko is proud to enrich lives of consumers who are conscious about wellness, their family's health, and nutrition by provided energy-efficient appliances.

In 2010 the pioneers of Montana Timber Products saw the need for rustic wood products and a demand for a suitable substitute for reclaimed wood products. Confident that we could produce a finish that would replicate the reclaimed wood look and feel, we began the process of building a successful business. Starting small, one customer at a time, Montana Timber Products began selling Fir siding and timbers to a few local builders in Southwest Montana. Today, Montana Timber Products has grown to be the largest supplier of specialized rustic wood building materials in the United States. We have expanded our product lines, increased color options, added Cedar, and focused on our production processes to bring our customers a great value based product. Our market has expanded with our customers covering the entire United States and Western Europe. We have had a lot of help along the way, but most of all, our success is founded on a great product and customer service.

Solving challenges is the very foundation of who we are. after all, in the beginning, sea captain Robert Fergusson didn't particularly care about paint. He just wanted to keep his ship intact. That's why, when he noticed that an accidental splash of fish oil had stopped the relentless spread of corrosion on his rusty metal deck, he immediately recognized it for what it was: A valuable solution. The same passion that drove the Captain to spend his next few years creating the world's first rust-preventative paint still drives us today. When we see a problem, we work diligently until we've perfected a solution- which has led to some of the most cutting-edge, durable and innovative products in the industry. If you've got a surface you need to protect or a look you want to transform, you've come to the right place. We have a coating for every challenge. Welcome to Rust-Oleum, home of trusted quality-and powerful solutions-since 1921.

OMG Roofing Products is a leading manufacturer and global supplier of high performance products for the commercial roofing industry. Our core business is manufacturing highly engineered roofing fasteners for virtually every type of roof substrate and roofing system. In addition, we manufacture insulation adhesives, roof drains and edge metal systems, and we supply other rooftop components such as pipe supports and solar mounts.

Founded as a one man business by George H. Tennant in 1870, Tennant has evolved from a wood flooring and wood products company into a manufacturer of cleaning equipment and resinous/epoxy coatings. Today, Tennant Company is recognized as an industry leader in the design and manufacturing of cleaning equipment and coatings that focus on creating a cleaner, safer, healthier world. Tennant's business includes equipment and coatings used to clean and maintain indoor and outdoor surfaces.

Founded in 1976, Meganite is a private, family-owned business founded by a chemical engineer. He had a relentless focus on R&D to provide quality products at the best value. Starting with manufacturing composite materials like resins, gel coats and color paste, we eventually evolved to solid surfaces which is our core focus. Today, as a US-based company, we build off our long history and expertise to continue to innovate on acrylic solid surfaces. Our managing philosophy is to partner for the long-term, and grow with our distributors and customers. As a solid partner, some of Meganite's distributor-partnerships have lasted decades.

AZEK Building Products manufactures home building materials under two divisions: TimberTech® and AZEK Exteriors®. TimberTech offers a premium portfolio of capped polymer and capped composite decking – as well as railing, porch, lighting and paver products – while AZEK Exteriors manufactures distinctly unique trim and moulding. Together the brands present homeowners, builders, architects, dealers and contractors with a comprehensive suite of first-rate products that are long lasting, sustainable alternatives to wood. AZEK is headquartered in Chicago, IL (with plants in OH and PA) and also owns Minneapolis-based Ultralox railing systems.

TrusSteel is the commercial framing industry's premier cold-formed steel truss system. Our innovative Double-shear fastening technology combines with our patented symmetrical profile to efficiently transfer structural load. The unique system provices more overall stability which makes TrusSTeel easier to handle and easier to install, with less need for additional installation of external restraints.

From its founding in 1921, Mitsubishi Electric has been at the forefront of Japan's technical ingenuity and product innovation. From its first hit product-an electric fan for consumer use-Mitsubishi Electric has continued to create a long list of "firsts" and groundbreaking new technologies that have shaped its business fields all around the world.

Coeur d'Alene Wood, LLC., manufactures and offers an innovative, one-of-a-kind line of aged wood products for its distributors. CdA Wood's revolutionary, patented process, accelerates the aging of wood, weathering the lumber to give it an authentic barnwood and reclaimed look and character. CdA Wood simply stimulates the organic maturing of the wood that naturally occurs from extended exposure to nature's' elements. CdA Wood achieves a unique color and exceptional aesthetic appeal on each piece of raw lumber without the use of paints, stains or other contaminants. The Xcelerated product line has the structural integrity for outdoor siding and trim and is safe for indoor accent walls, ceilings and other applications. All products are manufactured in the USA.

Viega LLC is the recognized leader in press technology, providing complete systems that work together with consistent, reliable excellence. Whether installing a potable water system or specifying a corrosive chemical line, Viega offers a system solution that is engineered and easy to install. Products include Viega ProPress® for copper and stainless, Viega MegaPress® for carbon steel and stainless pipe, the Viega PureFlow® System including PEX and fittings in high-performance polymer and Zero Lead bronze, as well as MegaPress CuNi and SeaPress® systems for marine applications. Viega also specializes in the design, production and installation of radiant heating and cooling systems, and offers Viega Flushing System Technology including carriers and flush plates. For more information, visit viega.us.

Founded in 1897, the MFMA is the only authoritative source of technical information about hard maple flooring. The association publishes grade standards, guide specifications, floor care recommendations and specifications for athletic flooring sealers and finishes available from MFMA headquarters or for download from the MFMA website. Mission Statement: MFMA's mission is to be the worldwide authoritative source of information about maple sports flooring and related sports flooring systems. MFMA accomplishes this mission through the development of quality and performance, installation best practices, education, and by promoting the use of quality maple and sports flooring products. Architects, contractors, school officials and maintenance personnel regularly consult the MFMA with questions about the specification, use and care of MFMA maple flooring.

AHI Supply is a leading manufacturer and distributor of quality construction products. We are committed to manufacturing superior products at an affordable price with a focus on customer satisfaction and service. AHI supply works with clients and distributors to provide innovative construction solutions that contribute to their success and competitive advantage. Our company has been serving the general public and the construction community in Texas since 1982.

World Dryer, the leading global manufacturer of hand dryers, is the only company of its kind to offer a full portfolio of fast, state-of-the-art hand dryers designed to fit the individual needs of any facility. For more than 60 years, our products have set the industry standard by integrating leading technology, convenient functionality and attractive design to give every user an unparalleled experience. Our high-speed hand dryers are all designed to deliver a faster, more effective drying experience while reducing operational costs. With more than 800 distributors worldwide and over 18-plus certifications representing more than 85 countries around the globe, World Dryer truly is the hand-dryer manufacturer of choice. Experience a world of choice

Livers Bronze is one of the last remaining U.S.-based handrailing manufacturers and has been in business since 1946. Every aspect of design, manufacturing, and testing is performed in the Midwest by skilled craftsmen, most of whom have been with Livers for decades. Livers Bronze offers the widest array of designs on the market, from traditional to modern, with every style in-between. Livers Bronze handrailings are the systems of choice for architects who want to leave their mark on museums, libraries, offices, and theaters with the help of decorative and functional, glass and metal handrails.

The McIntosh Group LLC provides accessibility consulting services and audits for building and business owners nationally. We are licensed architects in all 50 states, Puerto Rico, and the District of Columbia. We have experience with a variety of building types including Retail, Convenience, Banks, Hospitality, Restaurants, Movie Theaters, Residential and Office. We have extensive experience dealing with the ADA Title III, ANSI and state-specific accessibility overlays including California, Texas, Florida, Illinois, Georgia and Arizona.

Our story begins in 1890, when Thomas "Whit" Whitaker Rosborough started running his own sawmill. Sixteen years later, Whit Rosborough formed the Caddo River Lumber Company in the aptly-named Rosboro, Arkansas. In 1939, his team migrated to Springfield, Oregon, and opened Rosboro's first sawmill. Rosboro's first glulam plant opened in 1963. It was the first in the industry to use several key innovations: ~ Radio frequency beam curing equipment to shorten the processing time, enabling Rosboro to offer glulam as a cost-effective alternative to other floor and roof framing options. ~A continuous pre-glued finger joint allows Rosboro to make long length lamination's. ~ Stress wave machine-graded lumber, which creates stronger and more consistent glulam. Since then, Rosboro has continued its commitment to "Building Better" by using comprehensive information technology services to help create a top-notch customer service experience.

Since its beginnings in 1945, the Karl Storz family company has grown into a global manufacturer and distributor of endoscopes, medical instruments, and devices. We are no giant on an international scale but a leader in the things that matter: creativity, flexibility, and expertise.

AERCON AAC is the leading manufacturer of Precast Autoclaved Aerated Concrete Products and prides itself on maintaining the highest level of customer service and support. We are the only Autoclaved Aerated Concrete (AAC) provider that manufactures their product in the United States.

National Comfort Products is a premier manufacturer of thru-the-wall heating and cooling products perfect for new construction and/or replacement multi-family projects. All products use environmentally friendly R-410A refrigerant. Our products are well known throughout the industry for their quality, reliability, easy-to-service design and backed by strong warranties.

Since 1945, Black Rock Fireproof Column has manufactured durable, aesthetically designed prefabricated fireproof columns. Today, these columns are in use every day at construction projects throughout the country--saving owners time and money by reducing installation time and providing many advantages including factory fireproofing, consistent quality, increased durability and ruggedness unavailable with other forms of fireproofing, increased production times, and predictable scheduling.

Founded in 1955 as part of Munters Corporation, Polygon is a pioneer and industry leader in the world of drying technology and engineered temporary climate solutions. The company established the use of desiccant dehumidification more than 60 years ago and has continued to advance the industry with the latest technology and the most energy efficient dehumidification and temperature control equipment available.

Architects, specifiers, general contractors and distributors rely on the Babcock - Davis product line for a quality product with hassle-free fulfillment. We provide roof hatches, smoke vents, access doors, floor doors, stair treads and nosings, entrance flooring systems and wallwear when and where you need them.We build our services around your specified needs. Babcock Davis takes complete care of your needs and full responsibility for the process from beginning to end, ensuring that you get the right product in the right place at the right time.

Providing an extensive range of advanced wood treatment technologies and services to the global wood preservation industry, with an expertise in wood biocides and wood protection chemicals, Viance LLC is an industry leader in the development of advanced greener building material solutions that improve the performance and durability of wood and wood products for sustainable building.

For over 85 years Trussbilt has made correctional facilities more secure and cost-effective by designing and manufacturing security products that set the industry's standard for safety, quality and innovation. Trussbilt is a leading manufacturer of security wall panels, detention doors and frames, security ceilings, security floors, and specialty products.

TRA Snow and Sun was founded by Terry Anderson, who helped establish the concept of cold roof systems in the US. TRA Snow and Sun's products help provide you with safety from the dangers and expense of sliding snow and ice, effective and cost effective mounting systems for solar energy collectors, and flexible roof flashings which have gained international recognition. For over two decades, our products have been selected by hundreds of satisfied builders and property owners.

TOTO is the world's largest plumbing products manufacturer. We offer a complete line of commercial and decorative plumbing fixtures and fittings, faucets, accessories, shower and flush valves, as well as lavatories, toilets, Air Baths and urinals. More than 1,500 TOTO engineers and their colleagues are committed to achieving the seamless integration of performance, conservation, technology, and innovation. For over 90 years, we have been producing superbly designed, high performance lifestyle enhancing plumbing products for residential bathrooms and commercial restrooms.

Timberlinx, invented by Didier Schvartz of Young's Point, Ont., is a completely hidden steel hardware system that allows all types of beams and posts to be joined easily at various angles, with terrific strength and apparent authenticity. Timberlinx can be used to replace, supplement, or enhance every joint that is used in timber frame, log building, or post and beam construction.

In 1998, The Cable Connection introduced the innovative Ultra-tec® line of stainless steel tensioners and mounting hardware designed especially for cable railings. The Ultra-tec® product line met with immediate success and has become the preeminent line of its type for use in cable railings. A large inventory of Ultra-tec® cable railing products are maintained in the factory warehouse in Nevada, by the nationwide distributor, The Wagner Company in Milwaukee, Wisconsin, and stocking distributors throughout the United States and in Mexico City.

SMA is a non-profit trade association comprised of the major manufacturers of stucco in North America and their related suppliers. Since 1957, SMA has actively engaged in promoting the products manufactured by our members, while holding high standards. Our members, the leaders in the industry, are committed to maintaining the highest levels of product quality,business ethics and professionalism among the membership and the building industry.

Scranton Product's well-known brands feature the most durable, low maintenance and best looking partitions, lockers and industrial sheet products in the industry. They won't dent, rust or need painting, and because they are colored throughout, delamination is not a factor.

Since 1985, we have been located in beautiful West Palm Beach, Florida, in the heart of Hurricane Alley. Savannah Trims is a marketing arm of 6 distinguished companies, all with a related theme: Architectural Building Specialties, as related to fine quality building components. We at 'Savannah' are specialists in the application of exterior building components such as Exterior Blinds, Glass Skylights and Standard Skylights, and Flood Barriers. Our combined experience totals over 100 years of hands on working with these products.

S-5! founder Rob Haddock has thirty-five years in the industry. Starting out as a metal building erector, today Rob is a well-known metal roof consultant, author, speaker and inventor. Throughout it all, Rob has been unwavering in his belief that metal roofing is superior to other types of roofing, and believes just as strongly today that his S-5! clamp innovation is making metal the most user-friendly roof type on the market today. S-5! will consistently exceed customer expectations by providing metal rooftop attachment solutions that deliver unprecedented value and innovative excellence in the global marketplace.

The Reflective Insulation Manufacturers Association International (RIMA-I) is the only trade association representing the reflective insulation, radiant barrier, and low-e reflective coatings industries. RIMA-I activities are guided by an active board of industry members that participate on national and local levels of building code organizations and governmental agencies. RIMA-I members were and still are very active in ASTM as well as ICA (Insulation Contractors Association) and ICAA, a national organization. With active membership of 24 organizations, (see membership list), from the US and Canada, RIMA-I continues to grow and promote the use and understanding of reflectives based on the same ideals as the founders nineteen years ago.

As a leading supplier of polymer-based solutions to construction, REHAU addresses sustainable design priorities by engineering products that enhance comfort and convenience, reduce energy costs, create healthy and safe environments, and conserve finite resources. REHAU's products and systems for the window and door, heating and plumbing, fire protection and pipe markets complement each other in integrated high-performance solutions.

Silent Guard represents the most sophisticated technology available in sound control windows and doors. These technologically advanced products deliver cutting edge sound supression, outstanding energy efficiency and the aesthetics beauty and maintenance-free qualities of premium vinyl windows and doors.

Since 1942, Precision Ladders has been a leading manufacturer of commercial-grade access products including fixed aluminum ladders, ships ladders, roof hatches and folding stairways for either attic access or roof access. Today's Precision Ladders product line is not limited to commercial or industrial applications. They can also be found in many single family residences as well as multi-family residential projects.

Plastic Components is a leading manufacturer of plastic trims and accessories for the construction industry. We are the originators of many innovative trims and offer the most complete line of PVC accessories for EIFS in the industry.From freezing cold to extreme heat, our PVC products deliver optimal results: good looks, ease of handling, moisture management, reduced labor costs and superior field performance.

For over 70 years Nystrom has been the go to manufacturer for specialty building products. Today we provide a wide range of floor, roof and safety related access products that help create safer, more accessible buildings

NOCSA's mission is to promote the manufacturing and installation of quality one coat stucco through education to meet and exceed the standards that are set for the industry. One coat stucco is an ideal exterior wall treatment for residential, commercial, institutional or industrial buildings. It can also be finished in a variety of ways, including pre-mixed colored cement stucco finish coats, elastomeric coatings and paints, or even acrylic textured finishes.

Organized in 1964 by research chemist Dr. H.W. Bradley and Charlotte-based Barnhardt Manufacturing Company, NCFI Polyurethanes quickly became a leader in the manufacturing of flexible polyurethane foam for the bedding and furniture industries. NCFI offers a complete line of flexible foams for furniture seating, transportation seating, bedding, carpet underlay, and packaging. Also manufactured in Mount Airy are polyurethane foam chemical systems for spray-in-place insulating foam commonly referred to as SPF insulation, roofing, marine floatation, packaging, specialty molding, and many other uses.

National Gypsum Company is a fully integrated building products manufacturer and one of the leading gypsum board producers in the world. National Gypsum also offers a full line of interior finishing products including joint compounds, tape, and textures. Its growing cement board product line has a strong customer base in the United States and several other countries.

Perceiving an unmet need for flexible solutions to large architectural openings, the founders of NanaWall Systems delivered their first wood-framed, opening glass wall in 1986. Three years later, NanaWall Systems, Inc. was incorporated, with the mission of finding, creating, and delivering an ever-broadening array of flexible design solutions. In 1996, Nana Wall Systems entered into partnership with Solarlux of Germany, the world leader in operable glass wall technology. Today, with manufacturer's representatives throughout the continent, Nana Wall Systems is the dominant provider of opening glass walls in North America.

Marcoza Castings is a manufacturer of bronze and aluminum sand castings producing custom designed bronze architectural plaques, bronze memorials as well as bronze and aluminum historical reproductions. With its production facilities in Fort Worth, Texas, Marcoza Castings is centrally located to conveniently serve the entire United States and fulfill the growing demand for high quality bronze signage and bronze memorials.

Klaus Multiparking is the world leader in parking systems with over 500,000 cars on Klaus lifts in 65 countries. Klaus has been manufacturing car lifts since 1964 and offers a full range of models from simple lifts to fully automatic systems. With representatives on the East and West Coast as well as in Canada, Klaus can help meet the needs of any project.

James Hardie has operations in the United States, Australia, New Zealand, Asia, and Europe. No matter where they operate, their goal is to remain at the forefront of the fiber-cement industry, capitalizing on our global leadership in building products and manufacturing and technology for both new home construction and remodeling.

Icynene-Lapolla is a leader of high performance building material innovations aimed at optimizing the building envelope and maximizing energy efficiency. Available in more than 31 countries, Icynene-Lapolla is a global manufacturer and supplier of spray polyurethane foam for insulation and roofing applications, reflective roof coatings and equipment.

Established in 1969, HMMA is a voluntary, non-profit business association composed of more than 60 member companies throughout North America. HMMA is the largest of the six divisions of the Chicago-based National Association of Architectural Metal Manufacturers (NAAMM), an organization established in 1938, with roots reaching back to 1907. Known throughout the consutruction industry for their strength, durability, design flexibility and suitability in demanding settings, hollow metal steel doors and frames remain the logical choice for discerning architects, engineers and specifiers who demand high quality and cost-effective solutions.

HB&G manufactures the finest porch columns, porch posts, and accessories on the market. HB&G continues to lead the industry in offering the most advanced fiberglass columns, decorative column wraps, and porch posts, as well as column caps and bases, porch railings, and perqolas that will add beauty to any home.

Expanded Metal means versatility. Versatile is the key word describing Expanded Metal. New applications are found for it every day in industry, offices and homes. Expanded Metal allows the design professional the freedom to exercise maximum creativity. Available in different thickness and opening sizes, from micro or fine mesh to grating, Expanded Metal is produced in a variety of metals and other materials. Expanded Metal facilitates the free flow of air, fluid, or light where required. With Expanded Metal, there is no scrap.

Elite Crete Systems, Inc. is a world leading developer and manufacturer of specialty high-performance flooring products for: decorative/architectural concrete systems and finsihes, concrete surface repair and protection, custom/seamless fluid aplied commercial flooring, and industrial high-wear protective floor coatings. We provide versatile applications for commercial flooring, residential flooring, and industrial flooring.

Element Designs is synonymous with innovation in the kitchen & bath, commercial, hospitality industries. We are the leading custom manufacturer of architectural casework components in North America which include aluminum frame cabinet doors, patent pending aluminum frame LED panels, high gloss solid surface doors, aluminum frame base systems and back painted glass. Our new products further demonstrate our dedication to providing our customers with the most innovative architectural casework products and solutions available on the market today. All our products are made in the USA using regional suppliers, with quick lead times and excellent customer service.

Dynamic's atmosphere of innovation allows us to continuously improve our products, our methods and ourselves. We invest in new technology and in employee development. Providing an environment of empowerment with accountability allows every employee to share in the Company's success. Dynamic will only partner with suppliers of high quality goods and services so we can continue to raise the bar with outstanding products and Customer Service. We demonstrate daily that we are the leaders in our industry by producing innovative products of the highest quality, in the most efficient, timely and environmentally friendly manner.

Clopay has been manufacturing Commercial sectional doors as part of our product offering since 1964. We are the largest manufacturer in the United States for sectional overhead doors, and all products are manufactured exclusively in this country. Adherence to ASTM standards, Federal Specifications, and over-all quality are the foundation for our success. Our products are all built to meet or exceed DASMA standards.

As ClarkDietrich, we are now truly able to answer the challenges of any project, regardless of size or complexity. With a complete lineup of innovative products, plus technical support services and smart tools for design and specification, we're forging a new future for steel framing.

Founded in 1974, CEMCO is the leader in quality, service, and product development, always striving to deliver the cutting-edge solutions that save both time and money during the entire construction process. Its commitment to quality control and the use of mill-certified prime steel ensures stellar product performance long after the project is finished. CEMCO is proud to offer one of the most broad product lines available in cold-formed steel framing for both commercial and residential markets. All of CEMCO's products are manufactured here in the USA.

Manufactured in our state-of-the-art facility in Schertz, Texas, Armortex® products are carefully and thoroughly assembled and inspected to ensure the highest quality. Armortex® produces the most comprehensive line of Bullet, Blast and Forced Entry Protection Products available, such as: composite panels and custom fabrics, steel and aluminum windows, wood, steel and aluminum doors, bullet and blast aluminum window systems (up to 42 psi, and 30 cal. Armor Piercing), and steel blast doors. ISO 9001 Certified

The Architect Marketing Institute helps architecture firms win better projects and better fees through effective marketing. Download the architecture firm marketing flowchart on our website!

ALPOLIC is part of Mitsubishi Plastic's family of world-renowned companies. As the #1 ACM manufacturer in the world, ALPOLIC produces a wider variety of ACM and MCM panels, for both interior and exterior applications, than any other manufacturer, including an affordable fire-resistant product that sets the standard. For more information, visit us online.

AGC Chemicals Americas manufactures, markets and sells high-quality fluoroproducts including Fluon® fluoropolymer resins and compounds and AsahiKlin fluorinated solvents. Our Company also markets and sells specialty chemicals including LUMIFLON™ fluoropolymer resins, Asahi Guard E-SERIES water and oil repellants, F-CLEAN® greenhouse films, Solesphere fine silica additives, and various fluoro intermediates.

Founded in 1946, Noble Company manufactures premium-quality, innovative products for the Tile, Plumbing, Heating and Cooling, and Fire Sprinkler Industries. Noble Company product applications include waterproofing, crack prevention, and sound reduction under tile flooring. Noble Company is an American-based company, manufacturing products in Michigan and Louisiana.

Steel Door Institute (SDI) was established in 1954 as a non-profit business association that develops standards for steel doors and frames. These standards are available free of charge so architects can ensure quality and consistency of steel doors and frames. SDI members are the only manufacturers that have been audited to ensure they meet our standards.

Culpeper Wood Preservers is one of the largest producers of pressure treated lumber in the United States. A leading manufacturer of pressure treated products for the residential, commercial, industrial and marine markets that employs more than 350 people. Culpeper Wood Preservers' brand name products are sold exclusively through independent lumber dealers throughout the Mid-Atlantic, Northeast, Mid-West and South. They operate 10 plants strategically located in Virginia, Maryland, North Carolina, South Carolina and Indiana.