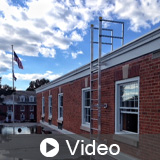 Access Ladders and Stairs: Specifying for Safety and Efficiency

About the Sponsor
Since 1942, Precision Ladders has been a leading manufacturer of commercial-grade access products including fixed aluminum ladders, ships ladders, roof hatches and folding stairways for either attic access or roof access. Today's Precision Ladders product line is not limited to commercial or industrial applications. They can also be found in many single family residences as well as multi-family residential projects.
Course questions/comments
423-586-2265
This course will discuss different types of access ladders and stairs and the various applications in which they can be safely used. The designer will also learn about codes and minimum requirements necessary to adhere to standards both dimensionally and for fire ratings.
Learning Objectives:
Identify the types of fixed access ladders, ships ladders, alternating tread, industrial stairs and disappearing stairways and discuss how they ensure safety in the building
Describe proper and durable applications for each type of fixed ladder, ships ladder, alternating tread, industrial stairs or disappearing stairways
List the applicable building code considerations and how they keep installers and occupants safe
Accurately specify the ladder or stairway needed for a project based on the application and applicable building code
Design Category (CSI Division):