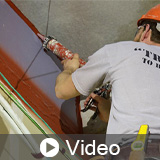 Acoustically Enhanced Gypsum Board for High STC Wall Partitions

About the Sponsor
National Gypsum Company, headquartered in Charlotte, NC, is the exclusive service provider of reliable, high-performance products manufactured by its affiliate companies and marketed under the Gold Bond®, ProForm® and PermaBASE® brands. The National Gypsum name has been synonymous with high-quality, innovative products and exceptional customer service since 1925. The strategic network of Gold Bond, ProForm and PermaBASE manufacturing facilities located throughout North America allows us to provide the best in customer service to keep your fast-paced projects moving forward. Whether you want innovative fire-resistant assemblies, enhanced acoustical performance or require additional abrasion or impact resistance, Gold Bond products deliver with a level of excellence.
Course questions/comments
704-365-7931
In this course, we explore sound transmission and acoustical requirements in buildings. Codes, standards, and design considerations are thoroughly reviewed. Acoustically enhanced gypsum board assemblies are evaluated as a solution for improving acoustics in multiple indoor environments.
Learning Objectives:
Define the key acoustical concepts & terminology including Sound Transmission Class (STC), Airborne Sound, and Decibels (dB)
Discuss current and proposed code requirements for STC ratings
Describe existing and innovative sound reducing solutions in terms of efficiency and practicality
Discuss the elements that affect STC ratings and what measures can be taken to improve STC ratings in wall assemblies
Design Category (CSI Division):