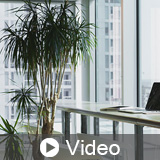 The Benefits of Buildings with a View: How Architectural Window Film Enhances Health & Wellness

About the Sponsor
XPEL is a worldwide provider of protective films and coatings, including 46 different commercial and residential window films that allow you to improve energy usage and building security. Wherever there is glass, we can improve it, from a comfort, energy savings, safety, security, and a decorative perspective. We also provide automotive paint protection film, surface protection film and ceramic coatings. With a global footprint, a network of trained installers and proprietary DAP software, XPEL is dedicated to exceeding customer expectations by providing high-quality products, leading customer service, expert technical support, and world-class training. XPEL, Inc. is publicly traded on Nasdaq under the symbol "XPE Contact our design team for help with picking the correct film and writing the specification.
Architectural window film that outshines expectations for energy efficiency, building safety and wellness. Join us in this one-hour course as we discuss window film as it relates to promoting a healthy space for building occupants, and how it excels in energy savings through climate control without compromising on the benefits of a building's views. Participants will be able to evaluate window film as it relates to architectural design projects, health and wellness, thermal comfort, and energy efficiency.
Learning Objectives:
Evaluate the applications and benefits of window film such as energy efficiency, enhanced design aesthetic and contributions to the overall health and wellness of a building.
Investigate how utilizing architectural window film works and how it optimizes safety considerations that improve occupant productivity, thermal comfort as well as health and wellness.
Examine building codes and criteria to determine how window film helps designers to achieve safety and efficiency standards while reviewing the types of window film that will best benefit your design project.
Analyze case studies in order to understand the best window film applications and how it improves the overall view, occupant health, thermal comfort and safety of a building.
Design Category (CSI Division):