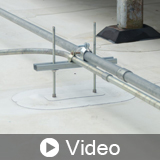 Commercial Flat Roof Fasteners

About the Sponsor
Your facility's roof protects a huge percentage of your assets and happens to be home to mission critical systems such as your HVAC, plumbing, electrical and even solar. So when integrating these systems on your roof, it's vital to make sure all components mesh well while leaving your roof watertight, within code, and maintaining your roof's warranty.Joel Stanley, our founder and pioneer, recognized this need and began designing a universal anchor that would be a seamless, non-penetrating component of the current roof system while providing the strength and engineering required to keep equipment in place. Fast forward several years – after designing, testing, and consulting with roofing experts around the globe for every environment – that universal anchor, now known as the U-Anchor, was born.
Course questions/comments
888-575-2131
This course will cover types of fasteners for rooftop applications. You will learn how to identify both roof decks and roof fasteners and the best practices for matching them together. You will discover key characteristics of fasteners and roofs to use in your everyday roof projects.
Learning Objectives:
Identify common roof decks and their importance in keeping maintenance workers and installers safe
Compare and contrast different roof fasteners and current statistics that optimize innovation and sustainability
Explore the Onsight fastener pullout verification test to meet or exceed compliance measures
Review of matching roof decks with fasteners to ensure the safety and wellness of installers and occupants
Design Category (CSI Division):
(07) Thermal and Moisture Protection