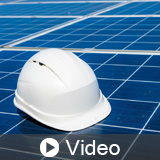 Commercial Roofing Strategic Financial Solutions

About the Sponsor
Your facility's roof protects a huge percentage of your assets and happens to be home to mission critical systems such as your HVAC, plumbing, electrical and even solar. So when integrating these systems on your roof, it's vital to make sure all components mesh well while leaving your roof watertight, within code, and maintaining your roof's warranty.Joel Stanley, our founder and pioneer, recognized this need and began designing a universal anchor that would be a seamless, non-penetrating component of the current roof system while providing the strength and engineering required to keep equipment in place. Fast forward several years – after designing, testing, and consulting with roofing experts around the globe for every environment – that universal anchor, now known as the U-Anchor, was born.
Course questions/comments
888-575-2131
This one-hour course will help explain making the financial case for including integrated photovoltaic systems on all roofing projects. You will realize that solar means going green in more ways than one, green for the environment and green as in dollars saved with Investment Tax Credit. We will discuss why solar power is the way to go in your next building project.
Learning Objectives:
Identify the benefits of solar power as an industry leading energy source for innovation and sustainability
Discuss the Investment Tax Credit and Depreciation and how it affects the outcome of your project
Explore how to make the ITC work for your building project to improve the health, wellness, and productivity of the building occupants
Recall what is typically included in the ITC for a successful, durable, and sustainable installation
Design Category (CSI Division):