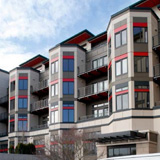 Compression-Seal Technology: A Sustainable Solution for High-Performance Windows and Doors

About the Sponsor
As a leading supplier of polymer-based solutions to construction, REHAU addresses sustainable design priorities by engineering products that enhance comfort and convenience, reduce energy costs, create healthy and safe environments, and conserve finite resources. REHAU's products and systems for the window and door, heating and plumbing, fire protection and pipe markets complement each other in integrated high-performance solutions.
Course questions/comments
703-777-5255
In this one hour course we will review compression-seal technology for high-performance window and door systems. Through a discussion that includes definitions and application examples, the design professional will be able to select the high-performance window or door system to best suit their design. We will conclude the hour by outlining the performance benefits of compression-seal technology and offering several case studies for consideration.
Learning Objectives:
Define compression-seal technology as applied to high-performance window and door systems to ensure the safety of the building and occupants
Describe how a compression seal works to ensure the integrity of the building and improve indoor air and environmental quality for occupants
Discuss the window and door configuration options using compression-seal technology and determine which creates a more structurally-sound system
Explain the performance benefits when utilizing compression-seal technology for windows and doors including air and water infiltration resistance, reducing the potential for mold and mildew build-up inside the building
Recognize the best applications of compression-seal technology for greater indoor environmental quality for building occupants
Design Category (CSI Division):
(08) Doors, Windows and Openings