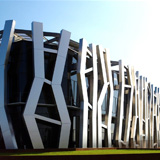 Design And Specification of ACM/MCM In Today's Architecture - Update

About the Sponsor
ALPOLIC is part of Mitsubishi Plastic's family of world-renowned companies. As the #1 ACM manufacturer in the world, ALPOLIC produces a wider variety of ACM and MCM panels, for both interior and exterior applications, than any other manufacturer, including an affordable fire-resistant product that sets the standard. For more information, visit us online.
Course questions/comments
757-382-5726
Explore different architectural cladding options. Discover how aluminum composite material (ACM) panels and metal composite material (MCM) panels have broadened architectural horizons, providing weatherability, fire resistance, long service life, and design flexibility.
Learning Objectives:
Knowledgably discuss ACM & MCM, their characteristics, and their manufacturing process
Identify the various fire tests used to evaluate ACM/MCM performance
Distinguish ACM/MCM finishes and explain the different surface technologies
Compare the different ACM/MCM attachment systems in terms of application process and performance
Define key points for specifying ACM/MCM and identify application possibilities
Design Category (CSI Division):
(07) Thermal and Moisture Protection
Course & Quiz Details:
10 Multiple Choice and True/False Questions
A score of 80% or higher is required to receive a certificate of completion