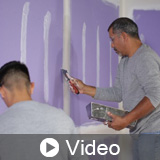 Finishing Gypsum Board Because Appearance Matters

About the Sponsor
National Gypsum Company, headquartered in Charlotte, NC, is the exclusive service provider of reliable, high-performance products manufactured by its affiliate companies and marketed under the Gold Bond®, ProForm® and PermaBASE® brands. The National Gypsum name has been synonymous with high-quality, innovative products and exceptional customer service since 1925. The strategic network of Gold Bond, ProForm and PermaBASE manufacturing facilities located throughout North America allows us to provide the best in customer service to keep your fast-paced projects moving forward. Whether you want innovative fire-resistant assemblies, enhanced acoustical performance or require additional abrasion or impact resistance, Gold Bond products deliver with a level of excellence.
Course questions/comments
704-365-7931
In this one-hour course designers will explore the different levels of gypsum board finishes as well as when to specify each according to the needs of the project. Gain insight into the importance of indoor air quality (IAQ) in regard to sustainability, how to improve IAQ, and how gypsum board finishes impact IAQ.
Learning Objectives:
Describe the various products available, identify specific location and outcome requirements.
Identify the significance of ASTM C840, "Standard Specification for Application and Finishing of Gypsum Board."
Define the differences between the "Levels of Finish for Gypsum Panel Products" (GA-214-2021), and when and where to specify each level.
Recognize most common mistakes and review industry documents for corrective action.
Design Category (CSI Division):