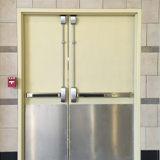 Fire Rated Door Assemblies: Compliant Designs - Update

About the Sponsor
Steel Door Institute (SDI) was established in 1954 as a non-profit business association that develops standards for steel doors and frames. These standards are available free of charge so architects can ensure quality and consistency of steel doors and frames. SDI members are the only manufacturers that have been audited to ensure they meet our standards.
Course questions/comments
(949)422-2911
This course focuses on compliant designs for fire door assemblies, frames, and hardware. Learn basic fire door assembly requirements for a variety of enclosures and how those standards must be met. In addition, ensure your fire rated openings are compliant by learning about the applicable codes, requirements, and design considerations. Included are important fire enclosure specifications set forth by the International Building Code (IBC) and National Fire Protection Association (NFPA), as well as UL standards for safety.
Learning Objectives:
Identify the common locations of fire doors
Discuss NFPA 80 requirements with regard to bolts, fasteners and other hardware, clearance and undercut, stops, and more
Discuss the significance of fire labels and their role in construction of fire rated assemblies
Describe the most common design considerations including door elevations, louvers, Dutch doors and the applicable fire codes
Specify the proper hardware for various types of fire rated assemblies
Understand 13 critical items in a fire door assembly inspection
Design Category (CSI Division):
(08) Doors, Windows and Openings