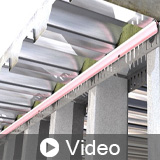 High-Performance Fire-Rated Joint Assemblies

About the Sponsor
Founded in 1974, CEMCO is the leader in quality, service, and product development, always striving to deliver the cutting-edge solutions that save both time and money during the entire construction process. Its commitment to quality control and the use of mill-certified prime steel ensures stellar product performance long after the project is finished. CEMCO is proud to offer one of the most broad product lines available in cold-formed steel framing for both commercial and residential markets. All of CEMCO's products are manufactured here in the USA.
Course questions/comments
800-775-2362
In this one-hour course, design professionals will gain knowledge of head-of-wall, bottom-of-wall and wall-to-wall assemblies, as well as the respective UL standards for approval, It will discuss different joint treatment types and the components involved with each application. By the end of the course, design professionals will be able to specify, install, and operate fire resistance joints and joint protection to ensure occupant safety.
Learning Objectives:
Identify a variety of wall-to-wall, bottom-of-wall, and head-of-wall joints, including their UL assemblies and ratings
Evaluate different joint treatment types for their advantages and disadvantages, particularly in regard to their durability, cost, and safety
Discuss International Building Code that relates to fire resistant joint systems and firestopping that protects occupants in the event of a fire
Apply knowledge of IBC standards to specify, install, and operate fire resistance joints to ensure occupant safety
Design Category (CSI Division):